There's a lot to love about Halloween. The creepy decorations, the spooky or funny or sweet costumes, the pumpkins and ghosts and witches, and of course, the treats! We don't subscribe to the belief that Halloween is a kid's holiday - it's fun for people of all ages. But yes, kids probably enjoy it a bit more than the average adult. So when Halloween falls on a weekday, it can really throw a skeleton bone into your plans! Sure, kids can celebrate at school with parties and parades.
But we all know that the real fun starts when the sun goes down and the candy bowls get filled. Trick-or-treating is the star of the night, when kids get dressed up and go door to door begging for some treats. However, when Halloween falls on a weekday, the celebration may get cut short (or cancelled) because of work and school schedules.
This is exactly why one group has started a petition to permanently and officially change the date of Halloween.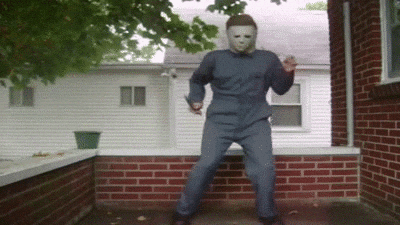 Image: Giphy
The Halloween & Costume Association created a Change.org petition to move Halloween to the last Saturday of October, rather than have it stay on October 31. Now, we sort of agree with this! How much easier would it be if Halloween was ALWAYS on a Saturday?! No need to worry about rushing home after work, throwing your kids in their costume, and rushing out for trick-or-treating before it gets too late?
Or worse, getting home and trying to get your kids to bed at a decent hour, after they've been eating candy for the better part of the night? It would definitely make for a smoother, less stressful Halloween, which would mean more spooky fun for everyone.
But ... it's Halloween! Halloween is October 31! It just sounds right. There's something about that date that feels right, you know? Happy Halloween on October 28 just doesn't have the same right to it. Plus, lots of towns have started holding Halloween events on the weekend before Halloween, like trunk-or-treats and festivals, so kids can still celebrate if their parents decide that trick-or-treating on a Wednesday isn't going to happen.
We totally get the sentiment behind this petition, but we hope that Halloween stays right where it is.
READ NEXT: When Is It OK For Kids To Trick-Or-Treat Without You?
Sister Comforts Younger Brother Battling Leukemia In Heartbreaking Photo