When you think of the Duggars, especially Michelle and Jim Bob, it's probably safe to say that real estate moguls isn't the first thing you think of. More than likely, your first thought is their nineteen children. However, it seems that the couple have been dabbling in real estate for quite some time.
Located in Springdale, Arkansas, the sprawling 10,000 square foot property was in need of some much needed TLC (not to be confused with the network which was once was home to their show). The Duggars' claim to fame was with the reality show, 19 Kids and Counting, which aired from 2008-2015.
According to Realtor.com, the Duggars purchased the property back in 2013 for $230,00; a much lower price tag than the one it's currently sporting. The price tag now? Just a cold, hard $1.8 million dollars. But, there is no denying, the renovation is quite spectacular!
The home renovation and flipping process is not new to Michelle and Jim Bob, and it seems that the journey to restoration glory is a family affair. A representative told TODAY Home, "The Duggars have a long history of real estate, long before they were even on TV…They had a lot of fun as a family doing it together."
Featuring lavish finishes, original walnut doors, a hand-built spiral staircase, and plenty of space for a large family, the property is outstanding. With four bedrooms, five full bathrooms, four half bathrooms, and a Pinterest worthy kitchen, there is no doubt that this home is ready and waiting for the perfect family and, of course, the right offer.
As gorgeous as it is, we can't help but wonder who is going to clean this place! Does it come with a staff, including housekeeper, chef, and dust wrangler? Although, on the plus side, there is definitely plenty of space for entertaining, storage, and general shenanigans.
[caption id="" align="alignnone" width="700"]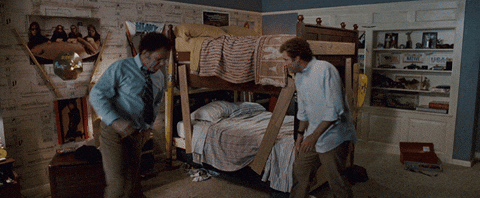 Credit: Giphy/Sony Pictures[/caption]
If you happen to be in the market, full listing details and more photos can be found here.
RELATED: Colorful Kitchen Appliances Are The Next Big Trend In Home Decor
Criss Angel Says His 5-Year-Old Son's Cancer Has Returned