Listen, there are few places in the world we love more than Costco. Where else can you get milk, eggs, snacks, and a storage shed you didn't even know you needed? There's no way you can get in and out of Costco for under $200 (and if you can, keep it to yourself, the rest of us don't need to hear it, LOL). If you're one of those people who needs a list for grocery shopping, then you probably have a list for Costco, too. But a Costco shopping list looks VERY different than a regular shopping list, doesn't it? Nestled in between notes to get dog food and baby wipes, you might have an entry for a ... safe? Or maybe a new set of cookware! How about a VITAMIX?! Costco shoppers know what we're talking about, and Costco shoppers will appreciate this shopping list in a way other people might not.
Wine, obviously. Costco has a great liquor selection! You're going to need something to go with that wine, like trail mix. Now, Costco has tons of products that you see and think to yourself, yep I need that! And then you get it, and well ... let's just say no one NEEDS four pounds of cold cuts.
The entire Costco shopping list is hilarious and so spot on. With the exception of maybe Target, there isn't another store like Costco, that makes you completely lose your mind and all sense of responsibility. You'll just start tossing stuff into your cart. Water balloons? Yep. New patio set? Such a good deal! Six-pack of John Grisham books? JUST BECAUSE!
[caption id="" align="alignnone" width="480"]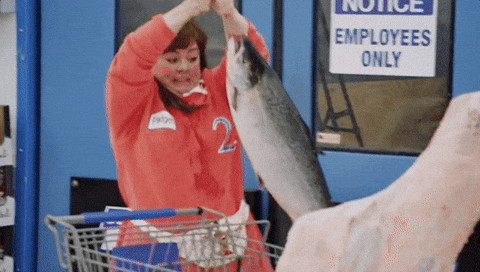 Credit: GIPHY[/caption]
We're going to be perfectly honest, this shopping list was a little too similar to our last Costco haul. They have great deals on tents! Even though we'll probably never use one, it's one of those nice-to-have items, you know? So level with us: what is your Costco weakness? Did you read this list and have the urge to immediately run to Costco for wine with a handle and more chicken salad than you could ever possibly consume? We know you did. And we did, too! Love-live, Costco. Let's hope they never make the carts even bigger, our back accounts would never recover.
READ NEXT: People Are Transforming This Costco Playhouse Into Miniature Dream Homes For Their Kids
Kailyn Lowry Said Goodbye To Beloved Dog Bear On 'Teen Mom 2' Finale