When you become a parent, you say and hear things you never imagined. You also find yourself laughing at things you never dreamed you'd find funny. This is certainly true for one mom who took to Facebook to share exactly how her son feels about the new design for Huggies Pull Ups.
Unless you have been living under a rock, you are well aware that the Toy Story franchise is extremely popular. Many of us have been following Andy and his crew of toys from the very beginning. From Buzz Lightyear to Woody, kids (and adults!) have grown to love these classic characters. This rings especially true for one mom, Emilee Webber, whose two year old has become obsessed with his new Pull Ups. And, he isn't afraid to let the world know it! In a now viral Facebook post, Emilee shares the following hilarious story.
We can't help but wonder the same thing. Why wouldn't they place Buzz Lightyear on the front, and our ol' pal Woody on the back of the Pull Up? We can only assume that a mother didn't design these! And, whoever did, they certainly didn't take into account the likelihood of kids proclaiming their love for Woody. At least not in a literal sense. Let's just add this story to the ever growing collection of, Kids Say the Darndest Things!
Good thing Emilee has such a fantastic sense of humor, and decided to share this hilarious story with the world. The post has brought a lot of attention and, judging by the comments, plenty of belly laughs. From fellow parents who can totally see their own children saying such a thing, to others who thanked Emilee for bringing a smile to their day. Her story can also serve as a cautionary tale. Make sure that before you buy your own children Toy Story Huggies Pull Ups, you take into consideration the consequences!
Now, we are left wondering. Has Huggies received the memo? By now, it's highly likely that they have, and perhaps the design team is  hard at work switching up the characters!
[caption id="" align="aligncenter" width="496"]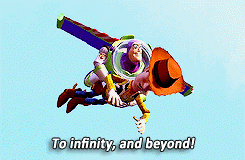 Credit: Giphy/Pixar Animation Studios[/caption]
READ NEXT: Disney And Dolby Bring The Pride Lands To New York City
Kindergarteners Cheer On Classmate At His Adoption Hearing