A shockingly high number of measles has been confirmed in 15 states from January 1 to March 28. According to the US Centers for Disesase Control and Prevention (CDC), 387 individual cases of measles have been confirmed. This is the second-greatest number of cases reported in the U.S. since measles was eliminated in 2000.
The CDC describes measles as highly contagious and spreads rapidly through coughing and sneezing. Measles begins with fever, runny nose, cough, red eyes and sore throat, followed by a rash that spreads over the body.
The states that are reporting cases include:
Arizona
California
Colorodo
Conneticut
Georgia
Illinois
Kentucky
Michigan
Missouri
New Hampshire
New Jersey
New york
Oregon
Texas
Washington
The CDC has confirmed that measles outbreaks, which are defined as three or more cases, are ongoing in California (Santa Cruz and Butte County), New Jersey, New York (Rockland County and New York City) and Washington. These outbreaks are associated with travellers who have brought measles back from countries such as Israel, Ukraine, and the Philippines, where large outbreaks are occurring.
Just last week, New York's Rockland County decided to ban unvaccinated children from public places such as schools, restaurants, malls and places of worship. In the county alone, there have been 157 confirmed cases of measles. The majority of those infected, were not vaccinated.
At the stroke of midnight Wednesday, anyone under 18 years old without a measles vaccine in Rockland County, N.Y., will be barred from most public places: "It is the largest outbreak in the nation since the measles was eradicated in 2000." https://t.co/2tE9DKcWdr pic.twitter.com/j66Ndbe7VX

— CBS Evening News (@CBSEveningNews) March 27, 2019
There is a solution, however. With the MMR vaccine, measles can be prevented. The CDC recommends that children get two doses of the MMR vaccine. The first dose is given between the ages of twelve and fifteen months and the second dose between the ages of four and six years old. The vaccine protects against: measles, mumps and rubella. The CDC reports that the two doses of MMR vaccine are 97% effective and one dose is 93% effective. It is also important to ensure that both teenagers and adults are up to date on their MMR vaccination.
If you want more information, or need to book your child/children's (or your own) MMR vaccination, contact your local health care professional immediately.
You could always consider living in a bubble, never having to worry about human contact again. However, the MMR vaccination is likely easier.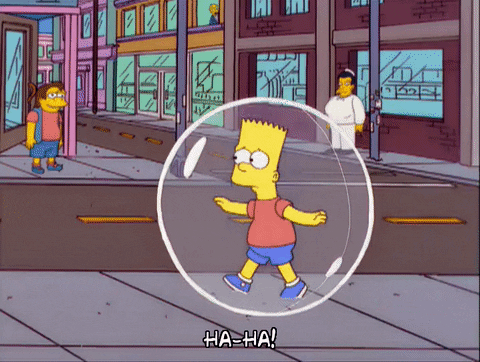 READ NEXT: The Most Common Questions About Measles, Answered
Mayor Leaves Children In Tears After Telling Them Santa Is Too Busy To Bring Them Gifts